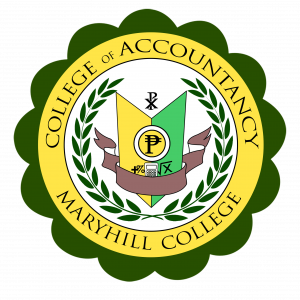 The Bachelor of Science in Accountancy (BSA) program of Maryhill College Inc. is a four-year course designed to produce competent and ethical professional accountants capable of making a positive contribution over their lifetimes to the profession and society in which they prefer work.
As per Commission on Higher Education Memorandum Order No. 03 series of 2007.

The BSA program should provide a foundation of professional knowledge, professional skills, and professional values, ethics, and attitudes that enable them to contribute to learn and adapt to change throughout their professional lives. (Article III, Section 14)
Preparing students for the CPA licensure examination and for employment in private establishments and the public sector are the subsidiary objectives which should judiciously blend with the primary goal of preparing students for a successful long-term professional accounting career in accountancy.
Thus, the accounting graduate should be qualified to take and pass the CPA licensure examination, and obtain employment as an entry-level professional accountant. (Article III, Section 14)
After completion of the program and passing the CPA licensure examination, the graduates can pursue a career in accountancy and related professions.  Specific jobs vary widely among the four major fields of accountancy: public practice, commerce and industry, government and education.  (Article III, Section 15)
Specific sample opportunities are the following:
Public Practice: Audit Staff, Tax Staff, Management and Services/ Consulting Staff
Commerce and Industry: Financial Accounting & Reporting Staff, Management Accounting Staff, Tax Accounting Staff, Internal Audit Staff, Financial Analyst, Budget Analyst, Credit Analyst, Cost Accountant.
Government: State Accounting Examiner, State Accountant, LGU Accountant, Revenue Officer, Audit Examiner, Budget Analyst, Financial Services Specialist
Education: Junior Accounting Instructor
Public Practice: Audit Manager, Tax Manager, Consulting Manager

Commerce and Industry: Comptroller, Senior Information Systems Auditor, Senior Fraud Examiner, Senior Forensic Auditor

Government: State Accountant V, Director III and Director IV, Government Accountancy and Audit, Financial Services Manager, Audit Services Manager, Senior Auditor

Education: Senior Faculty, Accounting Department Chair
Public Practice: Partner, Senior Partner, Senior Consultant/Financial Advisor
Commerce and Industry: Chief Financial Officer, Chief Information Officer