COLLEGE OF ARTS, SCIENCES, AND EDUCATION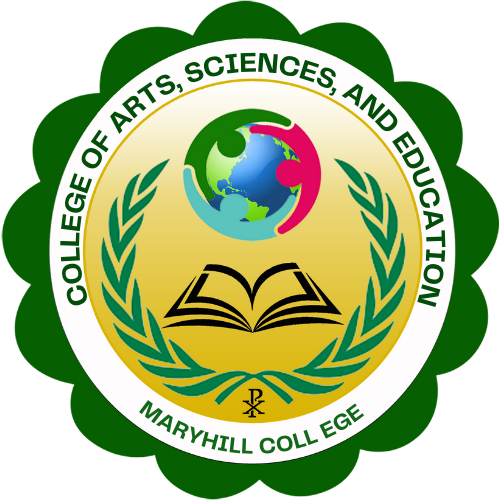 Marian Clover / Border
The Marian Clover / Border symbolizes the integration of Marian tradition and innovation to the programs and services of the College in its curriculum and instruction.
Laurel
The laurel leaves stand for knowledge and learning. This reflects the aim of the College of Arts and Sciences, the commitment to continuously seek the expertise and advocacy to spread to the students and future graduates under the programs offered in the College.
Circle
The circle signifies unity, wholeness, and infinity towards achieving quality education with the programs offered by the College.
Globe
The globe symbolizes the goal of the College to produce globally competitive graduates that are ready to surpass the demands of the national competencies. This symbol also signifies the adaptability of students and graduates of the College to the demand of the the global changes in the field of arts and human services, science and technology and teacher education.
Open-faced Book
The open-faced book symbolizes learning and knowledge. It represents the learning that the College strive to provide for the students pupils to continue to learn and develop Marian education throughout their lives as an envisage to be lifelong learning. 
Chi-Rho
The chi-rho symbolizes the Marian Catholic formation at the center of the programs and services of the College. Maryhill College is a Catholic institution that aims to develop the spiritual formation of its students and graduates across all programs and services of the institution.
People in Circle Formation
The people in circle formation symbolize the social connectedness of the College to its stakeholders. The green stands for the Marian Educators, the blue represents the students, and the pink represents society and community. These symbols explain the stakeholders' interconnectedness in fulfilling the College's commitment to producing students and graduates to be socially responsible individuals and hone their skills and competencies in servicing the ever-changing demands of society with community-based services and outcomes-based education.
Bachelor of Elementary Education (BEEd)
Bachelor of Early Childhood Education (BECEd)
Bachelor of Technology and Livelihood Education (BTLEd)
Major in:
Bachelor of Secondary Education (BSEd)
Major in:
English
General Science
Mathematics
Social Studies
Values Education
Bachelor in Human Services
The Bachelor in Human Services is a 4-year program that provides knowledge and needed competencies on various services related to mental health, psychosocial support, career and counseling, and guidance services for school, industry, and community. This program also caters to future professionals who wish to pursue a career in the various human services fields aligned with this program.
The Bachelor in Human Services aims to hone and train students to become future mental health practitioners and advocates for those who want to pursue a master's degree in guidance and counseling as their career path, especially those who wish to pursue licensure examination for Registered Guidance Counselors (RGC).
Community-based Human Services

Mental Health and Psychosocial Support

Group Process and Program Development

Career Development

Media and Information Literacy

Personality

Psychological Assessment

Introduction to Guidance and Counseling
Schools, Colleges, Universities (Training, Academic Planning, Group Facilitation, Program Development and Evaluation, Educational Assessment, Research and Placement)

Business and Organization (Training, Program Development, and Evaluation, Research, Career Planning, and Placement)

Business Processing Outsourcing (BPO) Industries

Community (Training, Group Facilitation, Program Development and Evaluation, Research, Career Planning and Development)